Updated: October 17th 2018
In way over his head...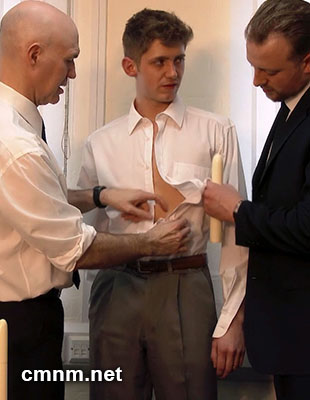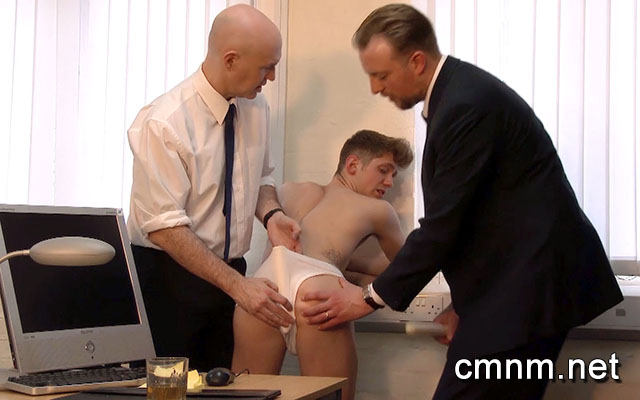 Two young entrepreneurs think they've got it made! The slick suited young men have convinced gullible rich investor Mr Swallows to give them millions to develop a product they know has no hope of going anywhere. It's left him out of pocket and them with funds that they can live off from like kings! But when Mr Swallows sniffs something suspicious is going on in this office he pays them a visit to get more hands on with their promising new product.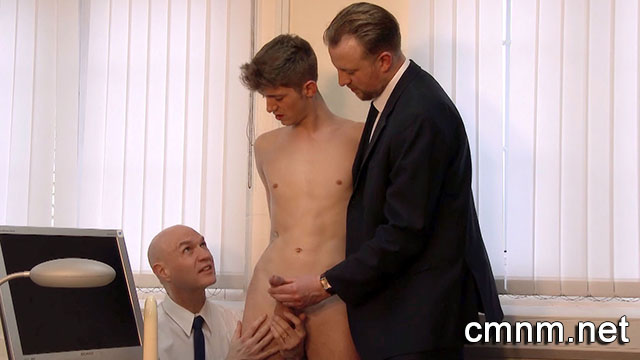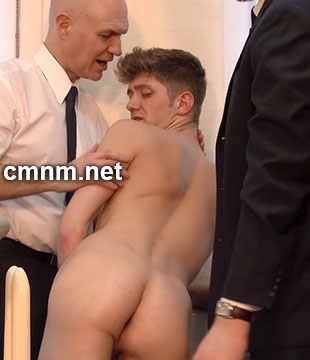 Isn't it time his bum-hole was used for something more?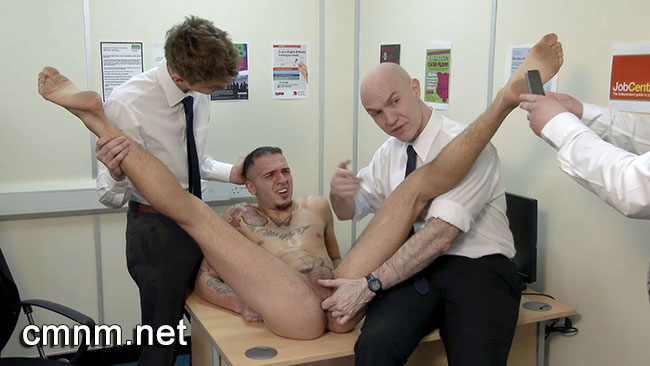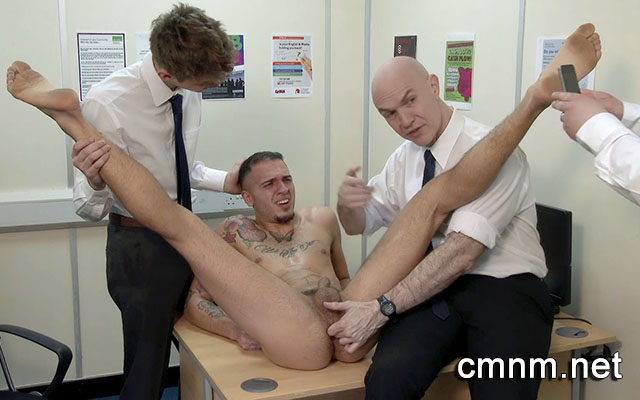 All day long scally Gary sits around on his arse. Isn't it time his bum-hole was used for something more? The pervy suited men make this bare arsed fucker bend over so they can take it in turns stretching his sphincter. This lazy straight bastard is piercingly aware of every second of his naked humiliation. The scheming men finally prove what a useless wanker he really is!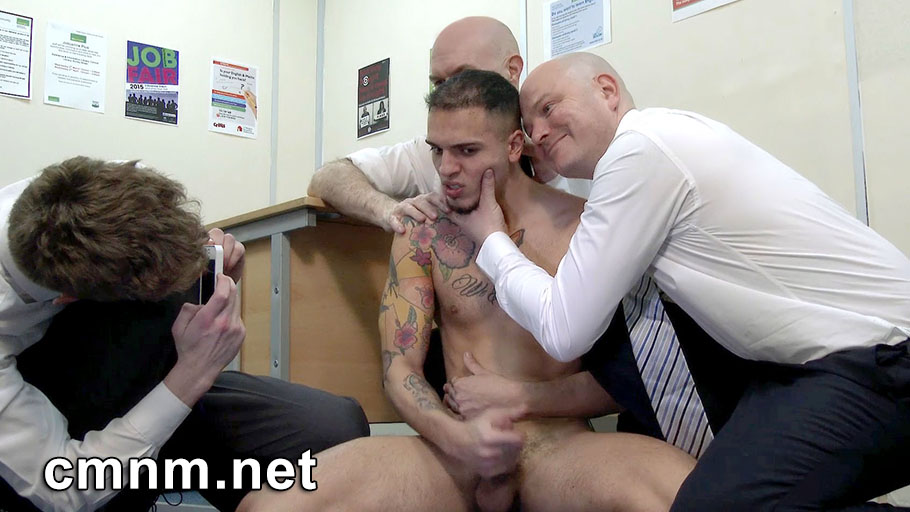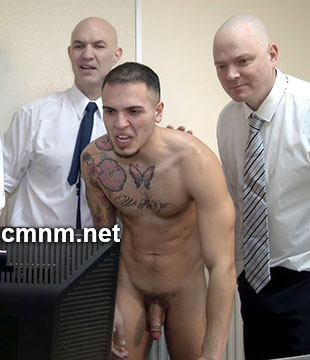 There's no stopping the rugby club boys now...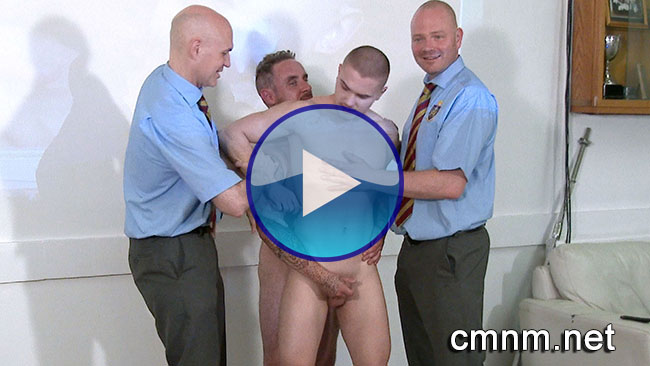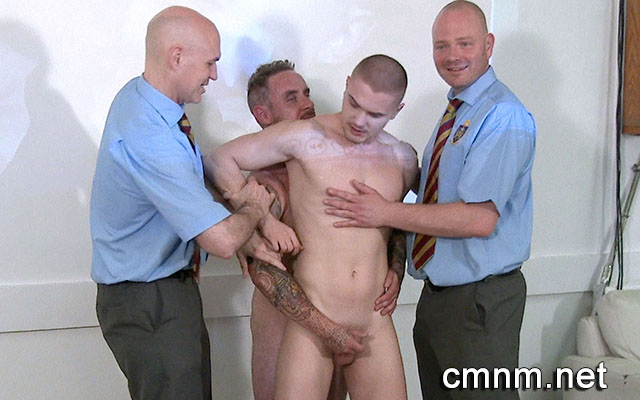 There's no stopping the rugby club boys now that they've ganged up on the hot shot personal trainer from Wakefield! Stripped stark naked with his perfectly toned body on display this isn't the greeting he expected. He's held firmly in his nemesis' arms and his cock is taken in hand while the jeering laughter of the athletes rings in his ears. This day will go down in the club's history as fucking legendary!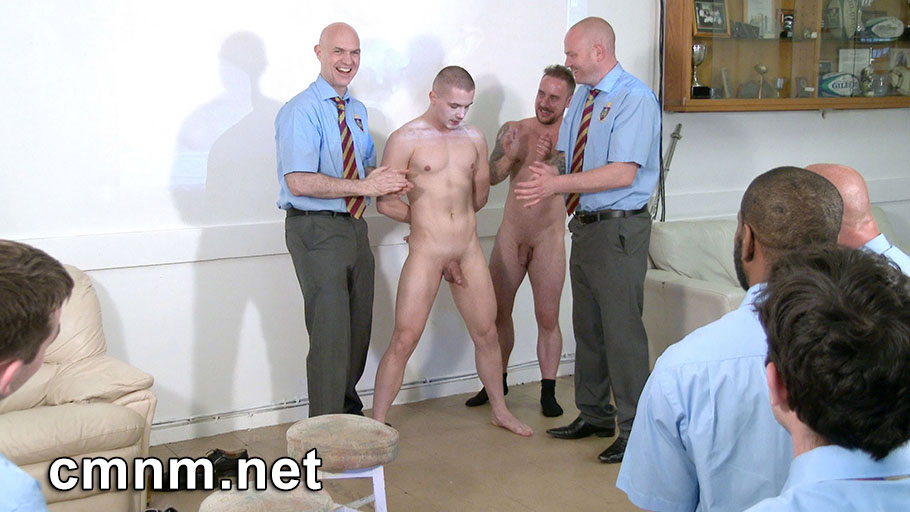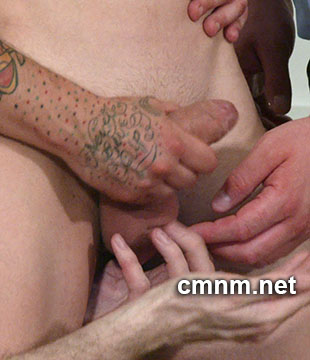 getting a taste of what it's like to be humiliated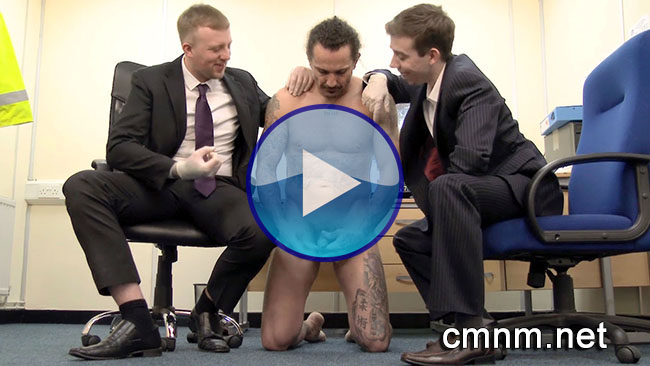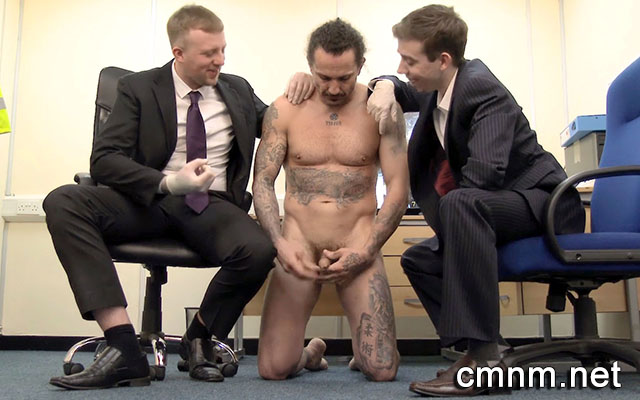 Guard Vinny thought he was the one in control but now he's been thoroughly shamed by the suited detectives who lord their power over him and take full control of his manly body. They mock and laugh at him while Vinny strokes his dick under their supervision. After all that fooling around with young lads he's getting a taste of what it's like to be humiliated and drained of cum!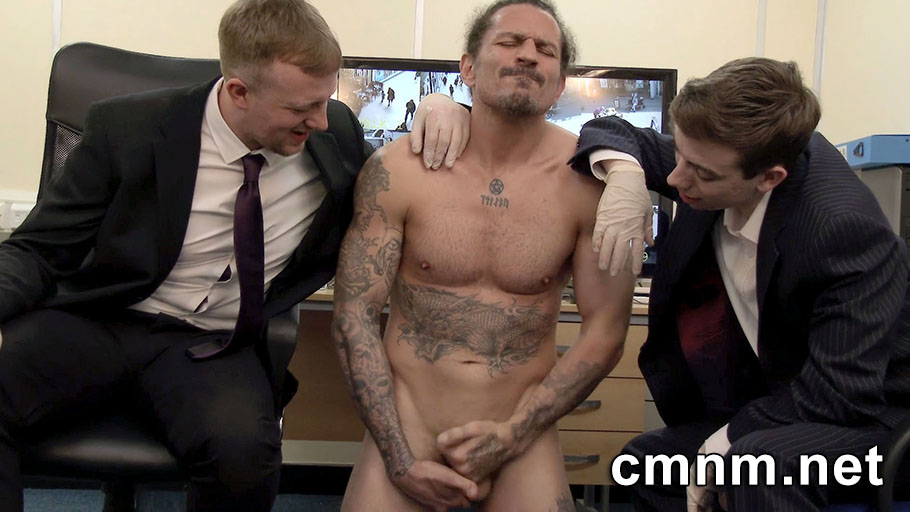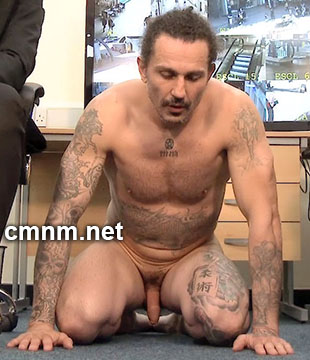 his disciplining has caused him to grow aroused...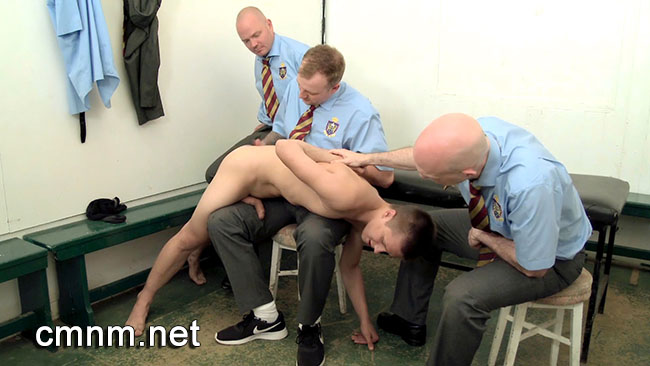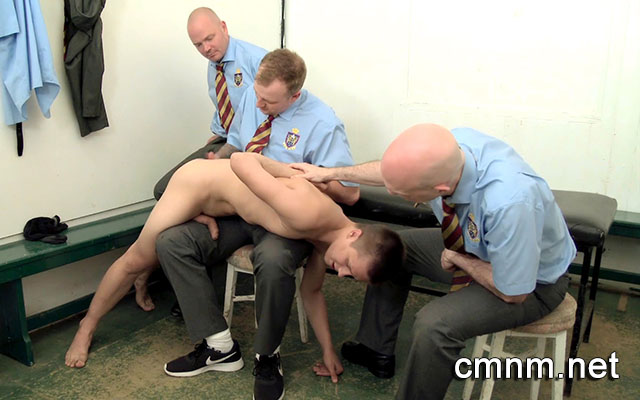 Johnny is receiving a severe OTK spanking from his father for his slutty desperate behaviour. The boy may insist he's still a virgin and not a slag, but he's proven how untrustworthy he is, especially because his disciplining has caused him to grow aroused. All his Dad can do is try to assess his son's claim by weighing up his testicles and testing his penis with the help of the chairmen of the rugby club. The virile 18 year old can barely control himself standing naked before all the suited men.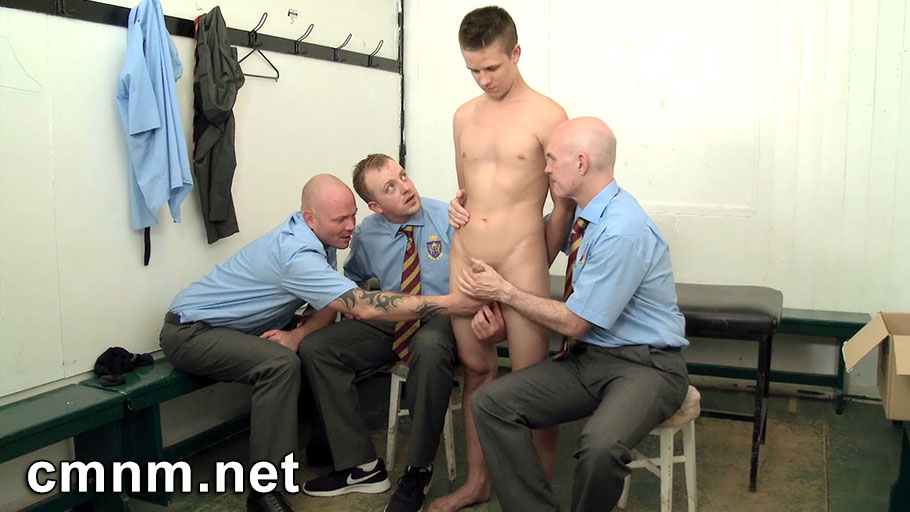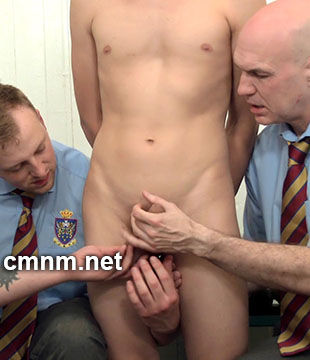 Pinned between his suited colleagues...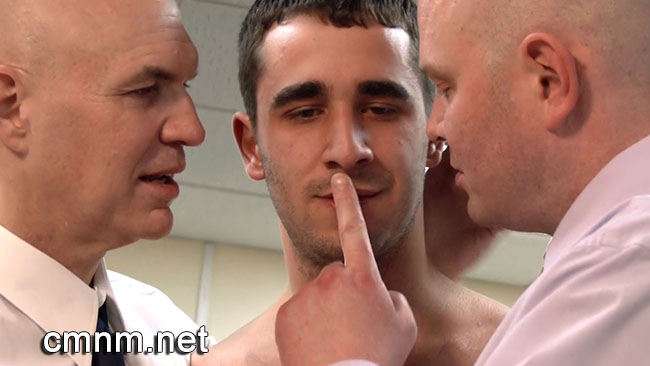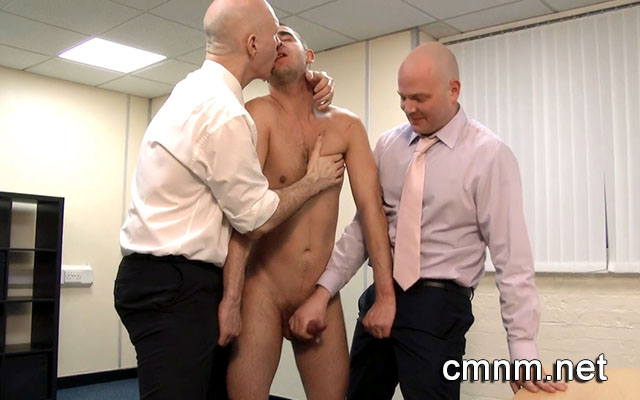 This proud office worker likes to pretend he's a chaste and pure hetero, but his colleagues have hazed him and teased his virgin arsehole. Now he's strutting around the desks with a raging hard boner bouncing around! Pinned between his suited colleagues they take charge of his erection and he's overcome by the prominent bulges that have formed in their trousers. All his perverted urges come out as he's struck dumb with an all encompassing desire to cum!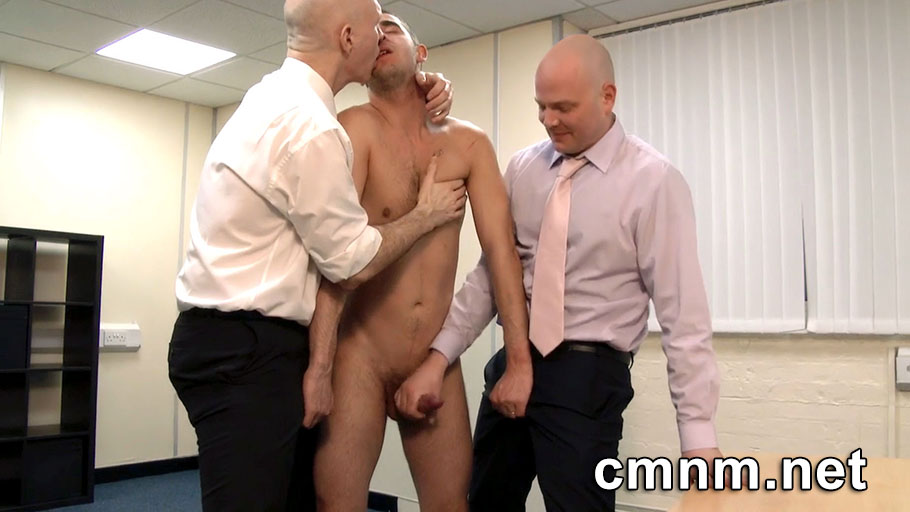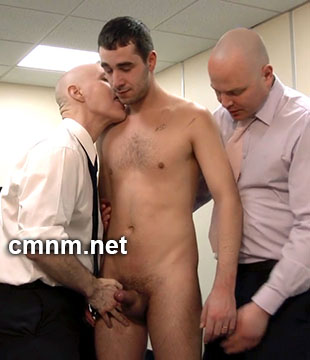 stretching Tristram's sphincter till he's crying for mercy...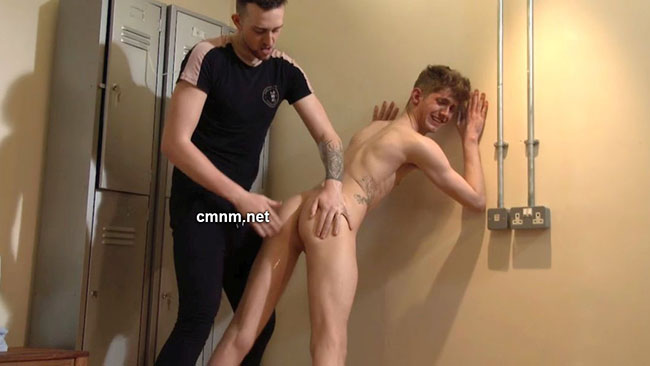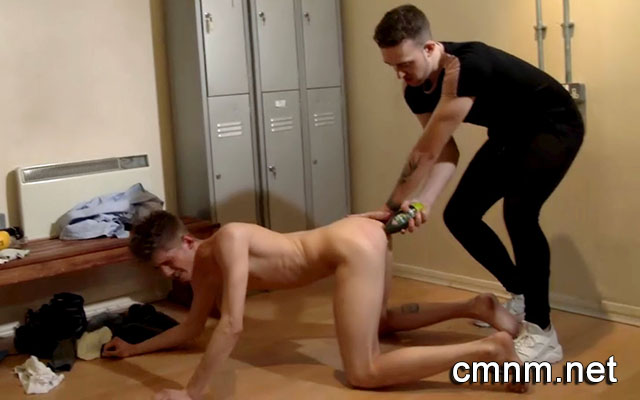 It's time for angry worker Kenny to get his revenge! Tristram has supervised Kenny being stripped and sexually humiliated. Now Kenny is going to take it out on his arse, bending him over and stretching Tristram's sphincter till he's crying for mercy. He gets off on being the boss now, wrapping the sexy consultant in his big strong arms and draining his balls.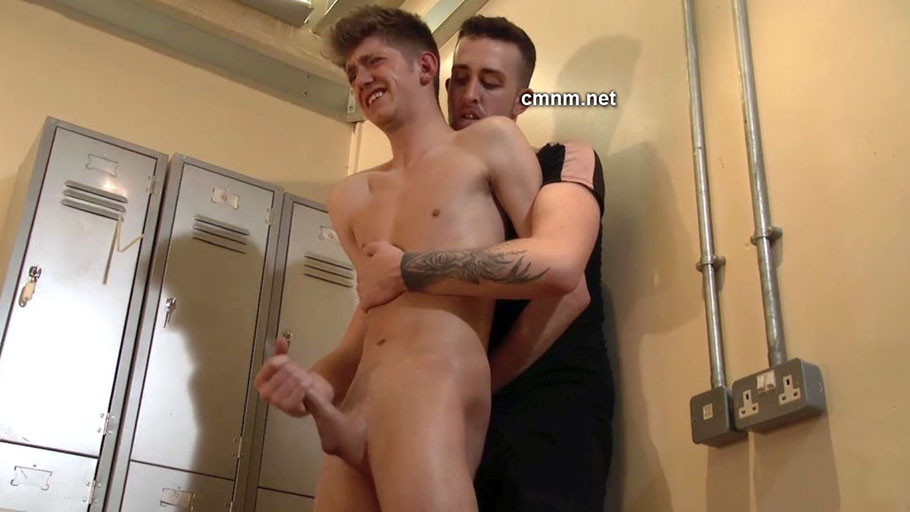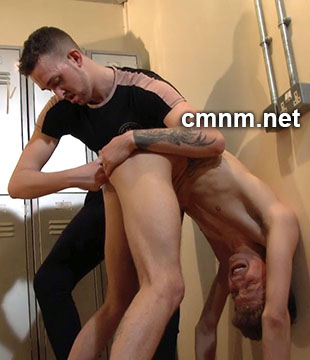 his arsehole yields to the men's prodding fingers till his sphincter is stretched wide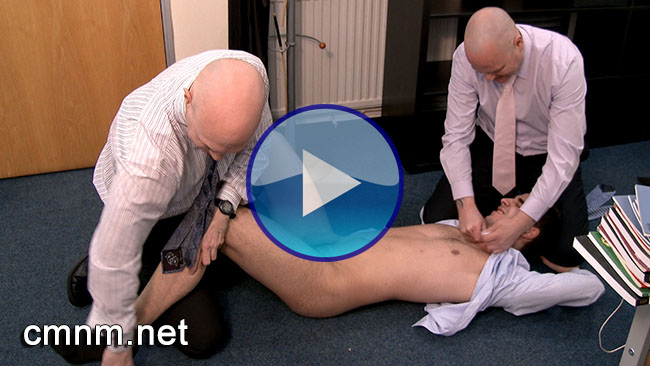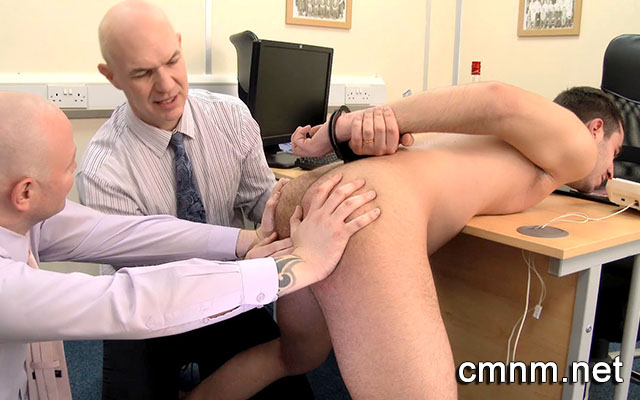 Mikhail stormed into Mr Swallows' office full of accusations, but this thuggish Russian is the guilty one now. His spunk is puddled on the headmasters' floor and his arsehole yields to the men's prodding fingers till his sphincter is stretched wide. No matter how reluctant this proud married man is to submit, his aching hard cock and full balls need to be appeased.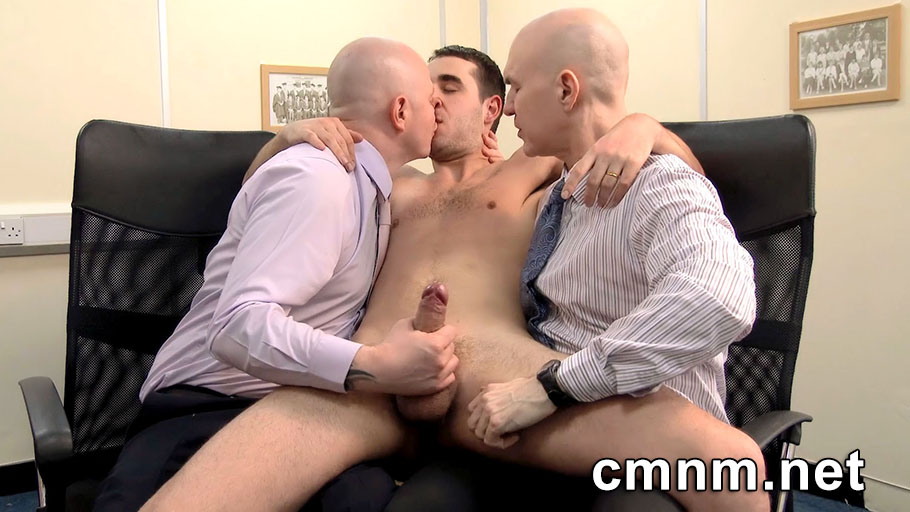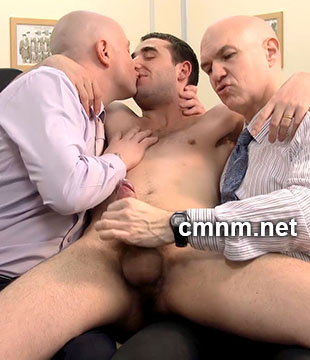 A young lad's innocence lost...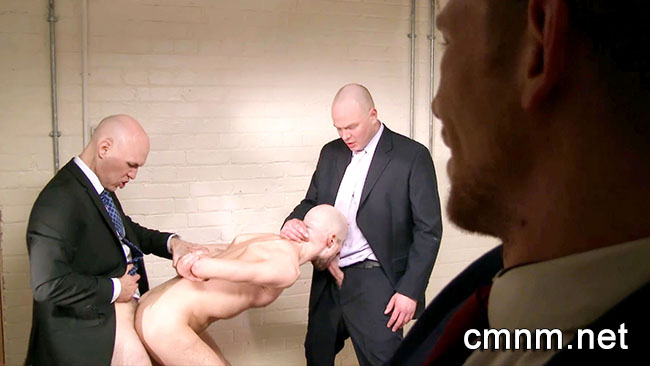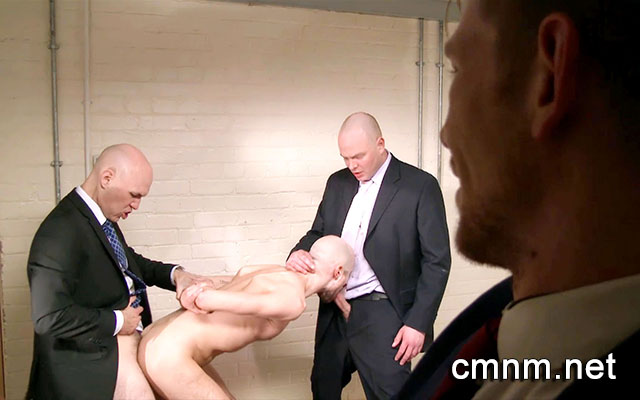 Naive young Lyle's innocence is well and truly lost as he stares in shock at his daddy Drew being spitroasted! At the same time he's being pinned against the wall while being kissed and groped. Drew must take both men's loads in his mouth and arse or else his son will face the same fate. But these perverted captors have an even worse plan for what will happen to Lyle when he's pushed down on his knees!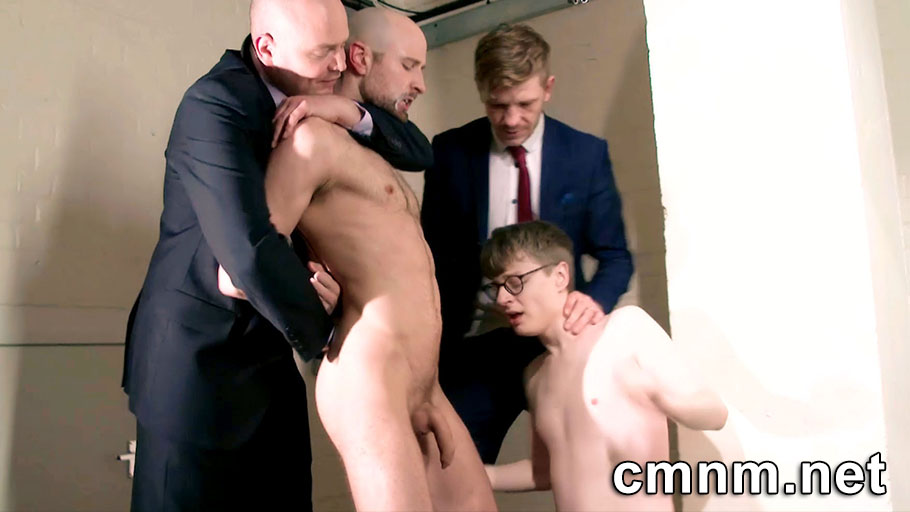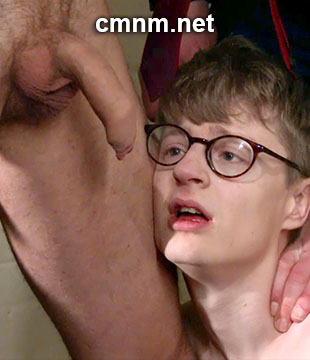 The club chairman and secretary have full access to every player...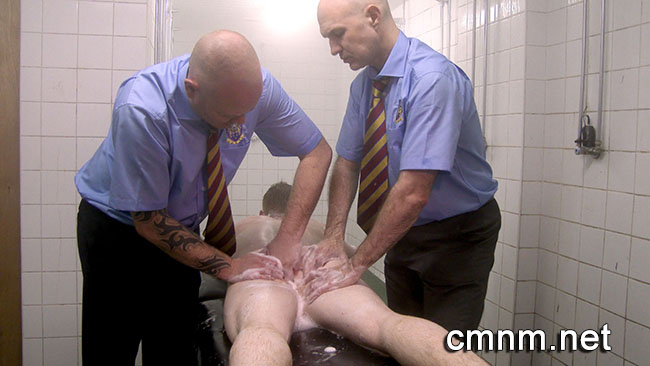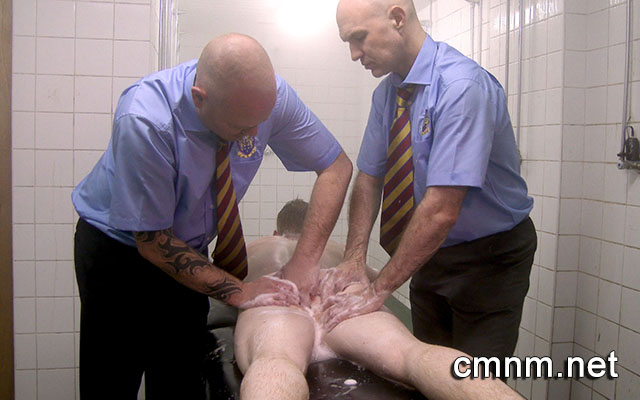 Since Matt's teammate is also showering, the club's chairman and secretary take it upon themselves to also massage and treat this big athletic brute. It's in his haunches where most of his muscle and power reside. To get him in optimum condition before the big upcoming match they pay special attention to his glutes and crotch area, digging in deep and relieving all pent up tension.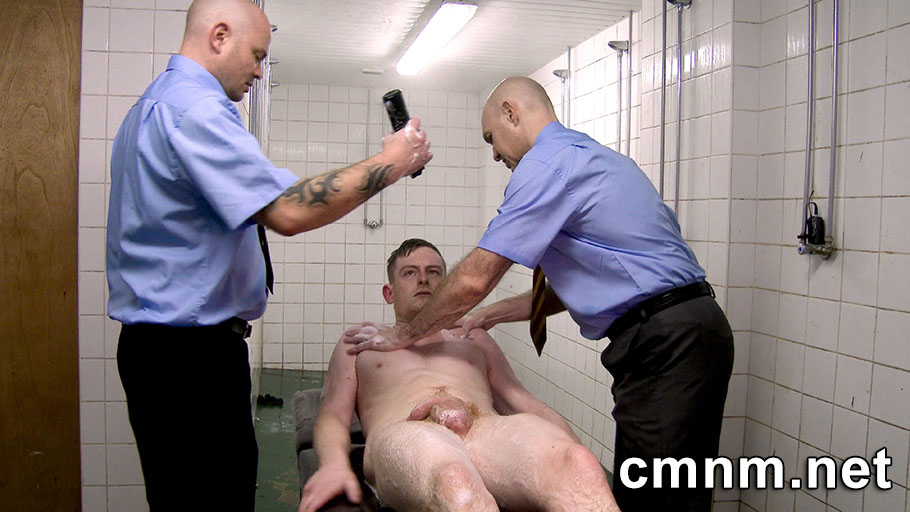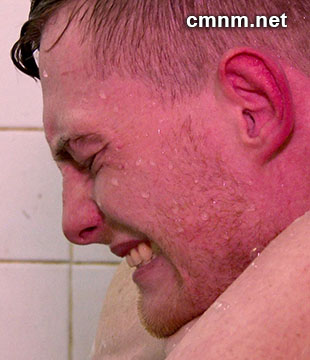 Stark naked in the communal showers!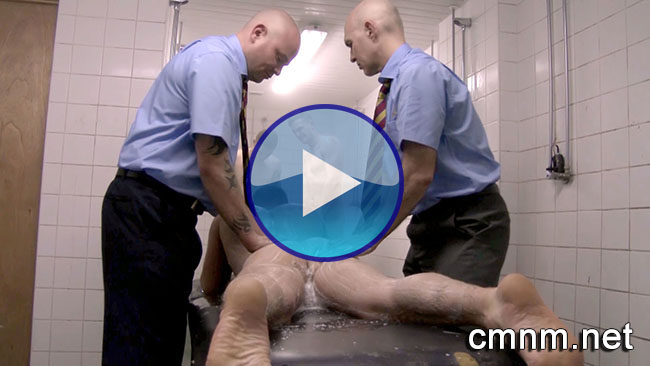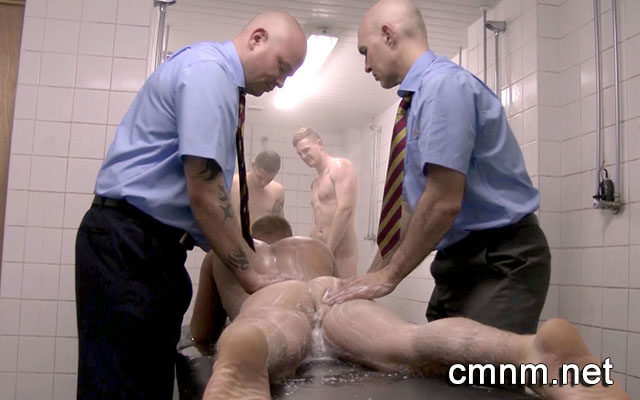 Now that Ryan's undergone his forfeit it's time to get down to business. He's taken stark naked into the club's gang showers for a good scrub down. They soap up his big meaty arse cheeks, slide into his hole and scrub under his foreskin. The chairman and club secretary get very hands on making sure this new athlete is fully prepared for his first match while his naked teammates shower and gawk at Ryan's humiliating treatment.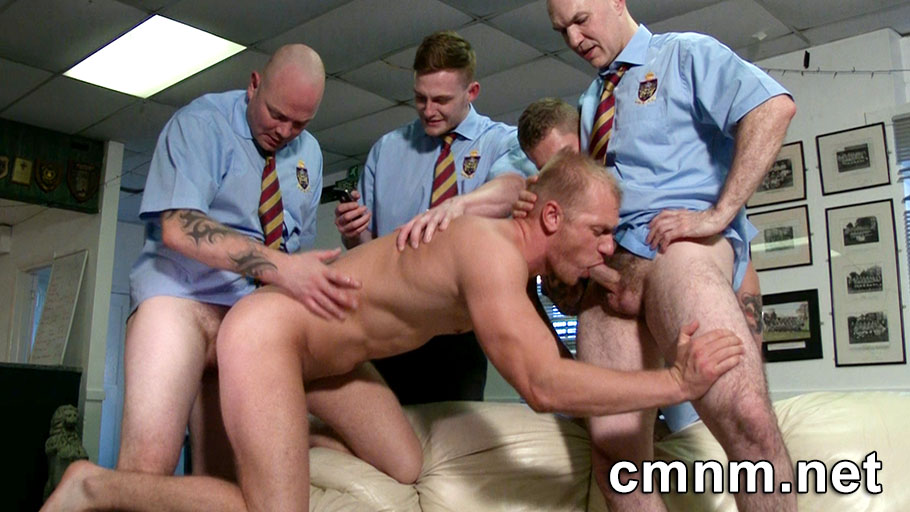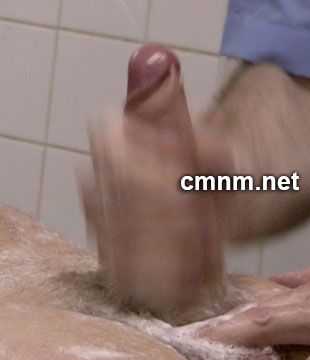 Crouching naked and pathetic on the office floor...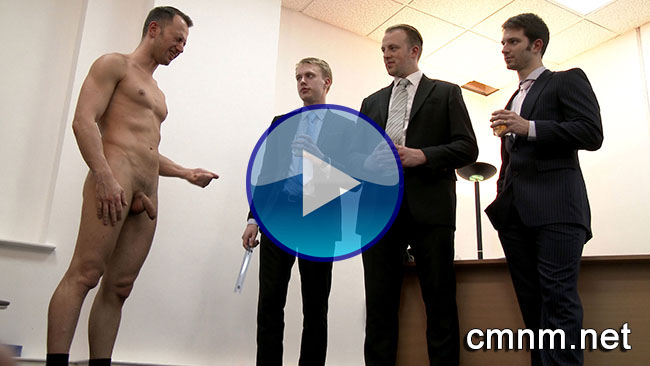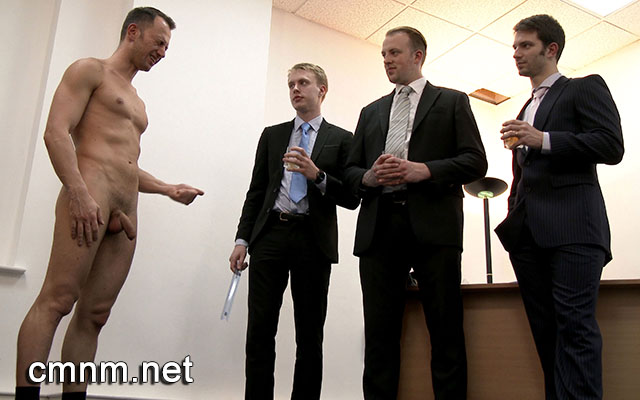 Upstart businessman Joe has been well and truly humbled by his superior and coworkers. The suited men circle around him, lording it over the handsome fella while he crouches naked and pathetic on the office room floor. They're ensuring that he learns his lesson. There's no jumping ahead in business! Every man must first do his time grovelling at the boss' crotch before he becomes the new big dicked honcho. Although they have a surprise which might fix this ambitious boy for good!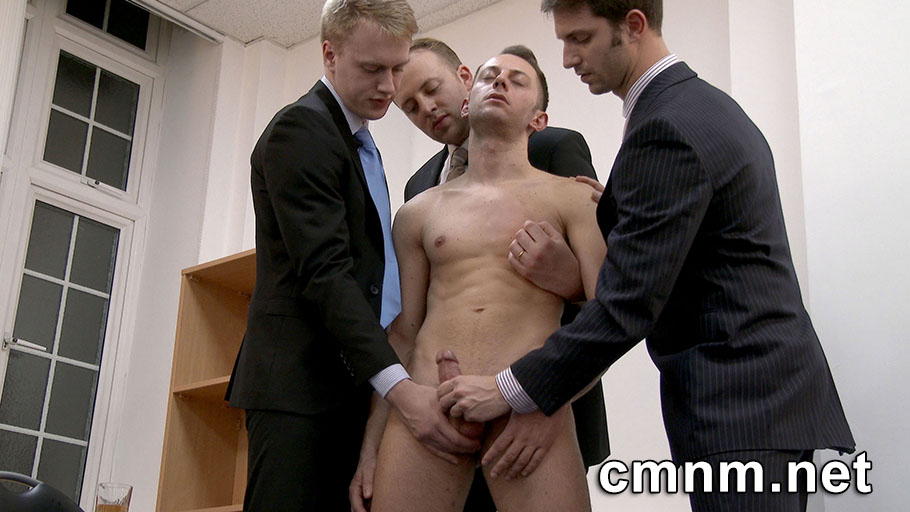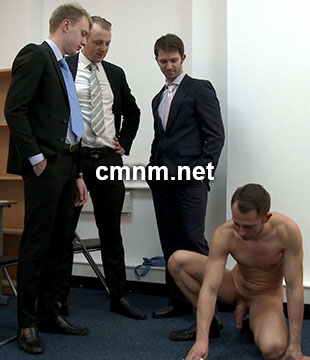 Builder gets a lot more
than he bargained for!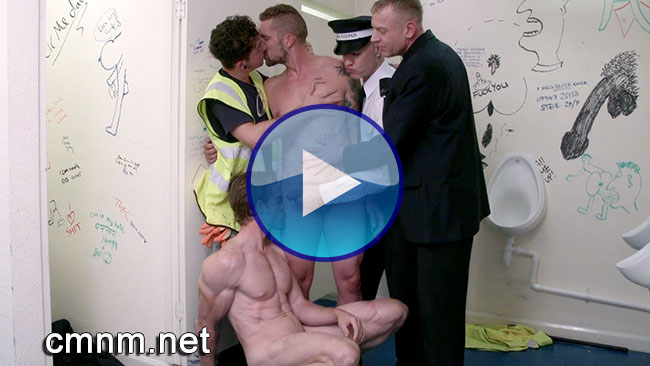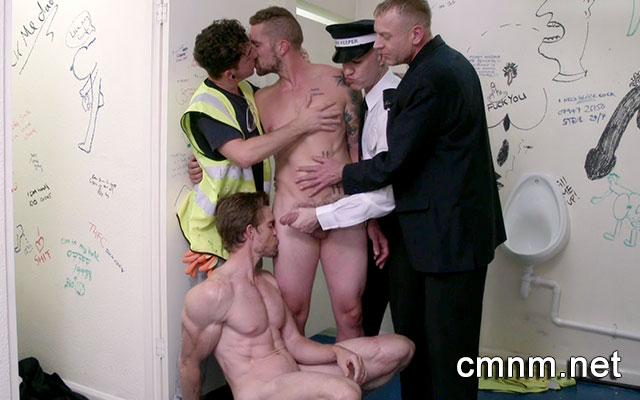 Builder Terry has got a lot more than he bargained for when he stepped into the public loos for a quick piss at the end of his lunch break. Roped into the most seedy perversion that happens in these bogs, he's now surrounded while stark naked! He's got an achingly hard cock and a hot muscular businessman at his feet begging to be drenched in sperm!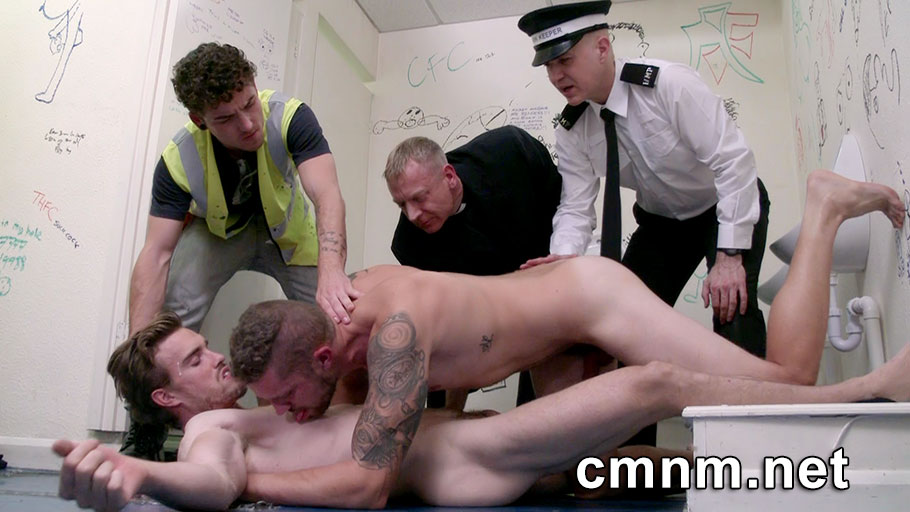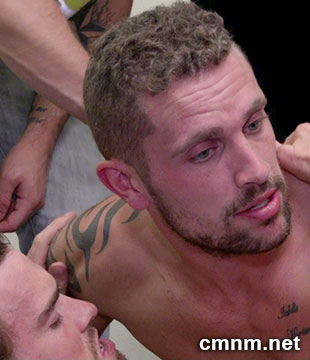 Overwhelmed by a circle
of hard cocks!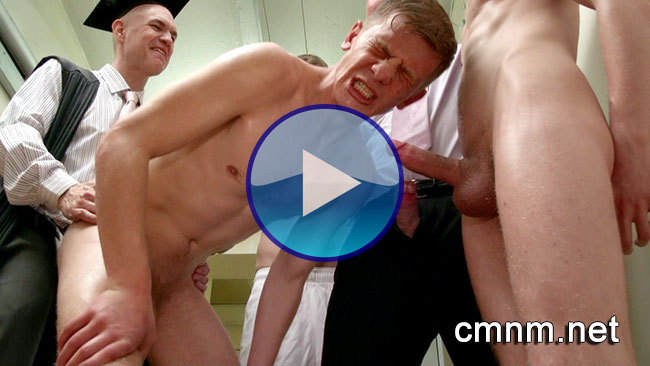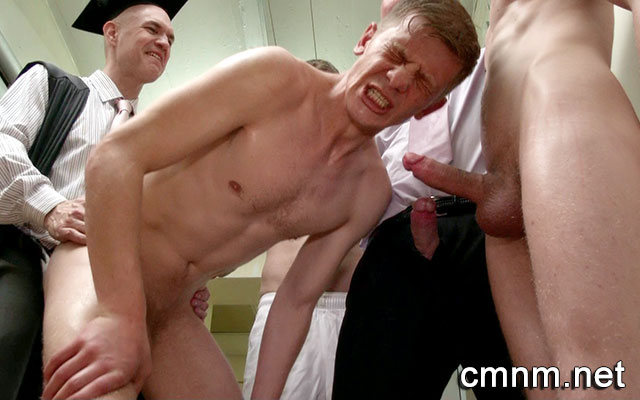 Simon is taking real delight in seeing his secret superior being given sexual discipline after the punishment he received. Now he can really get his own back! Derek Stepson is so overwhelmed by the circle of hard cocks presented to him that need servicing, he looses track of which is going in his mouth and which in his aching anus. The levels of perversion at this school are getting out of control!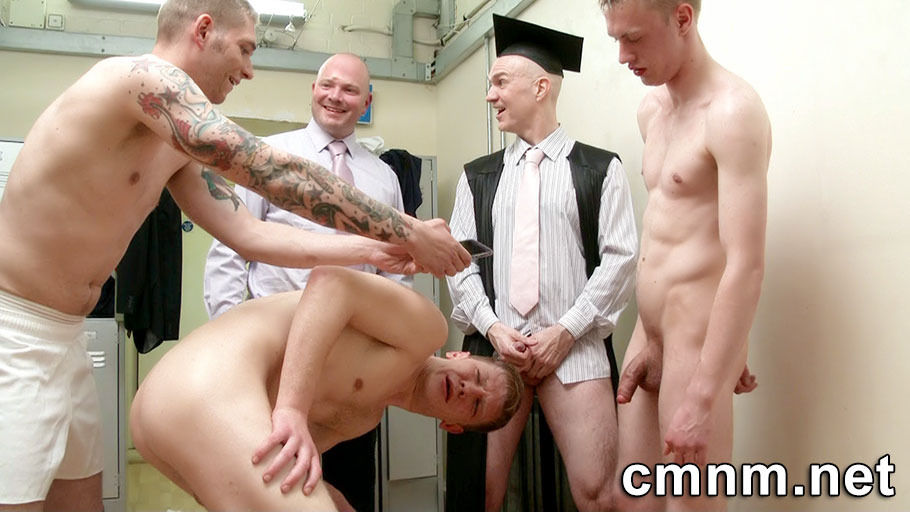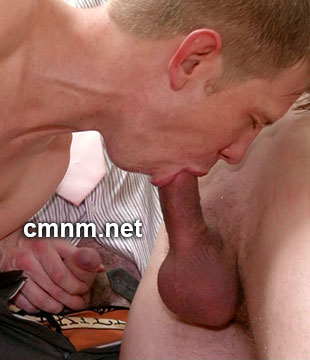 H.M. Prison Wormworth
The tougest screws and the hardest cons...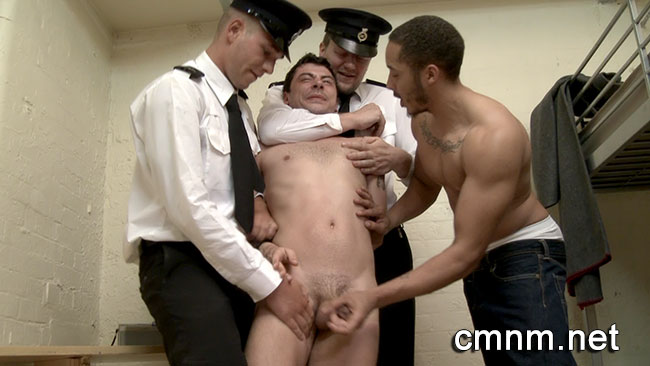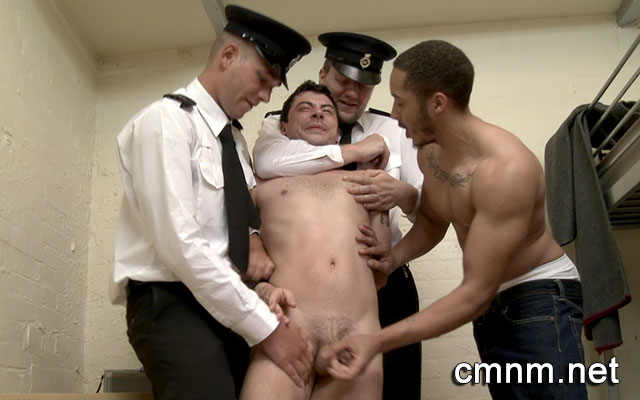 Smith tried to become top dog at this pervy prison but has ended up being the prison bitch! Having taken his arse and stretched open his sphincter, the officers and vengeful inmate now also want to steal the pretty boy's sperm. Pinned between the three men they yank and manipulate his cock till he looses all control!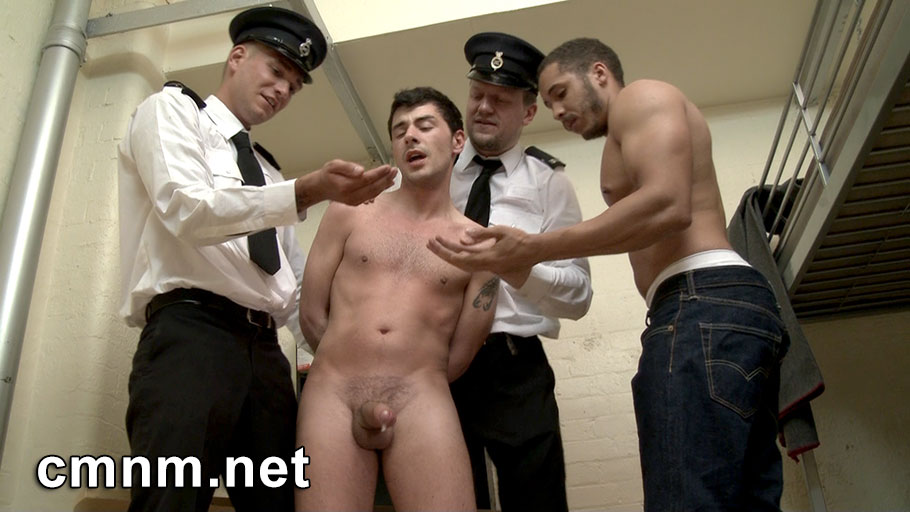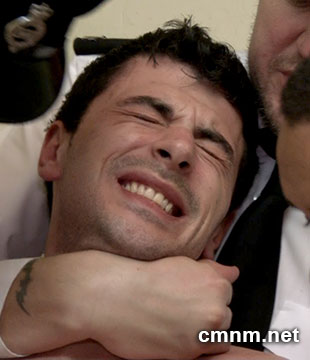 St. Dunstan's Revenge: Can scheming Simon entrap the headmaster?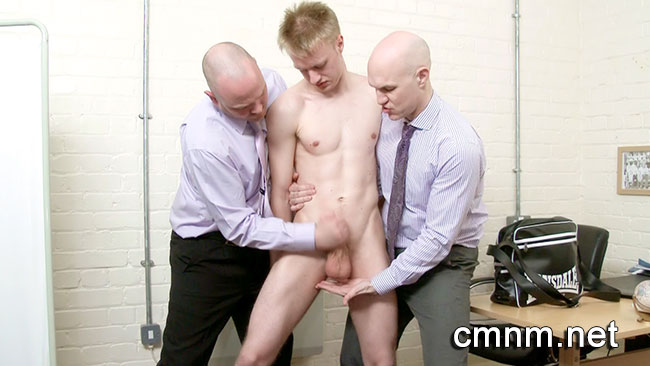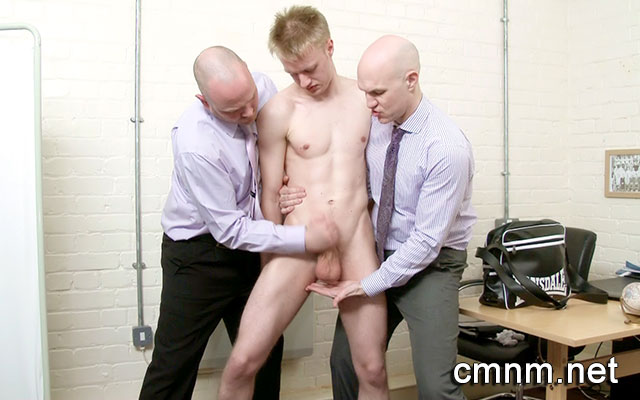 Simon set out to entrap the insidious headmaster and teachers at St Dunstan's but has quickly found himself over his head. Now that he's stark naked getting his massive balls groped and his willy tugged he finds himself losing control. The suited men rub themselves against him so that their bulges press against his naked body and his cock is manipulated to the point of feverish overexcitement.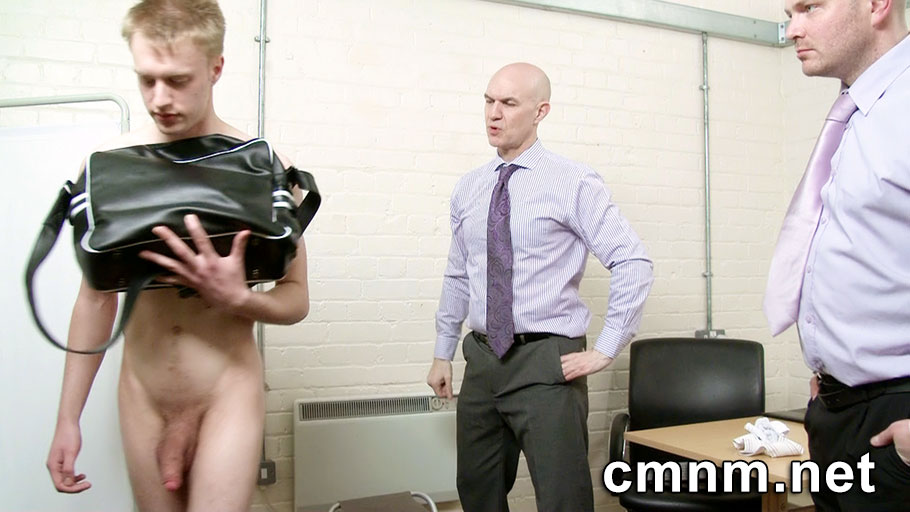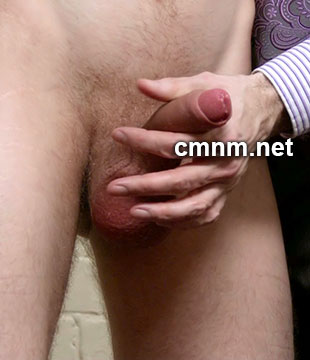 Young athlete desperate to empty his balls!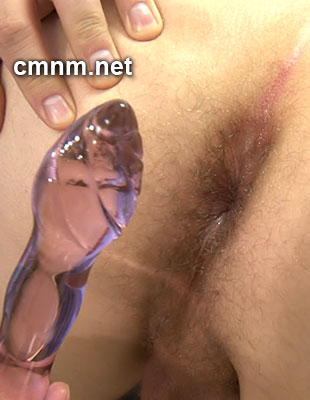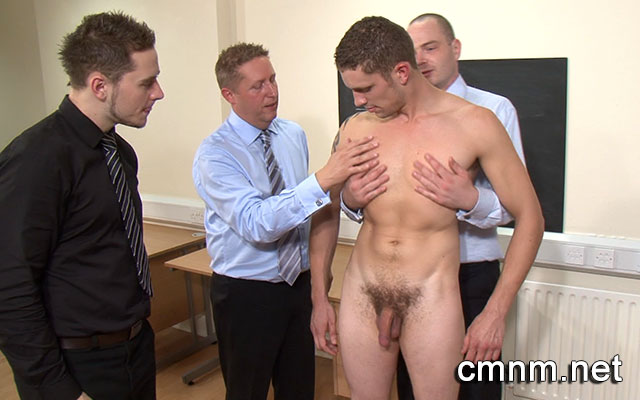 With Daniel's arse properly filled by the induction team, they insistently stimulate his cock till its engorged and his balls are fit to bursting. The young athlete is so desperate to empty them he asks the suited men to help him to cum. Don't miss watching this big boy's explosive ejaculation! There's enough fresh sporty semen to make a protein shake for the whole team! It's safe to say Daniel has passed his physical.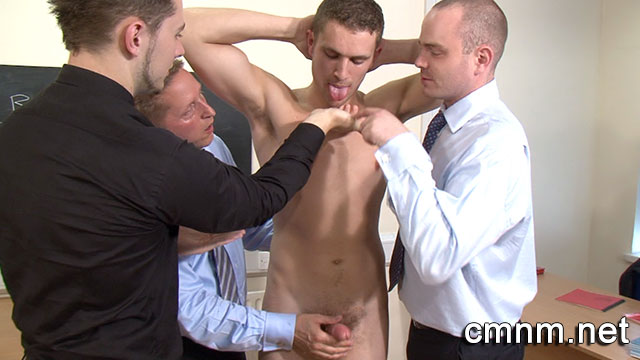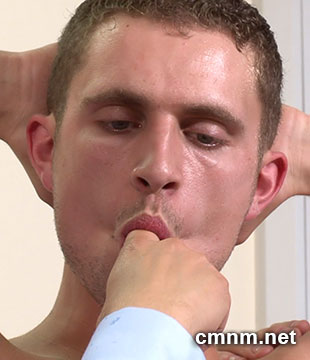 Gullible lads stripped, fingered
and wanked off!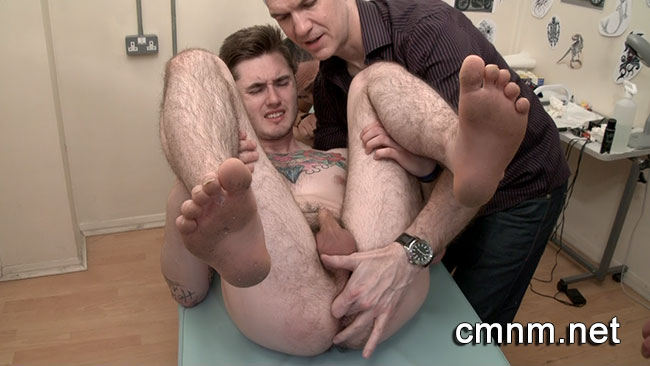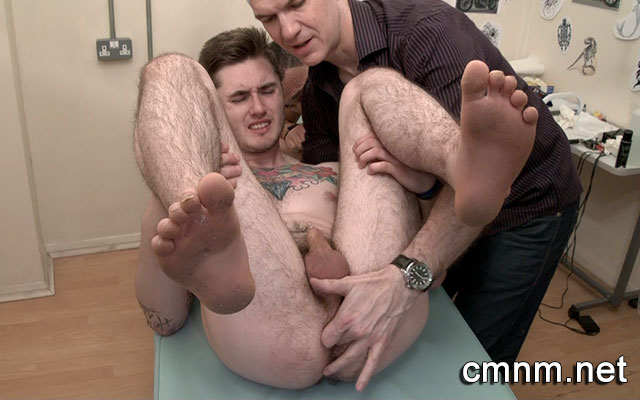 Sexy Luke is off his face so gullibly believes what the men say as he's told his cock must be hard in order for them to do his new tattoo. They pervily slide their fingers up his arse while stroking his dick. He has no idea what's happening to him but it's making him feel really funny deep inside. The lads were after a wild time but had no idea things would go this far or that there's photographic evidence which will be shared all over the internet!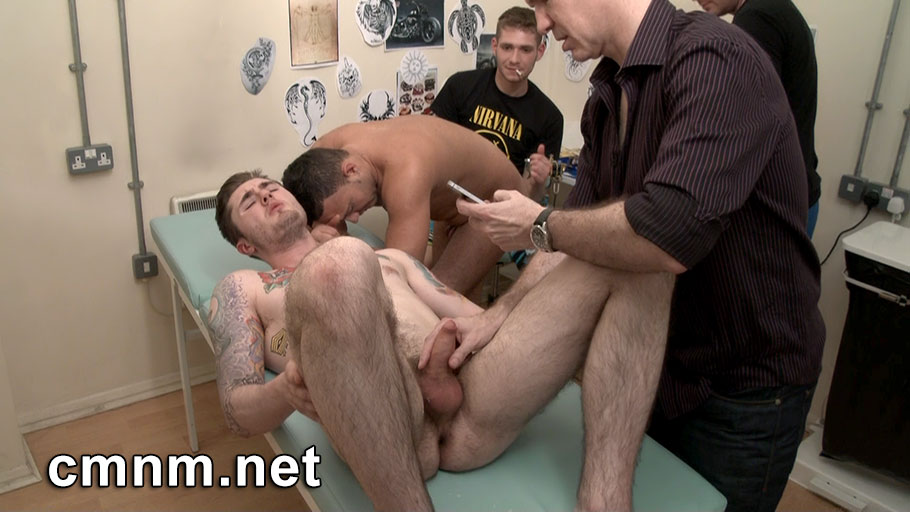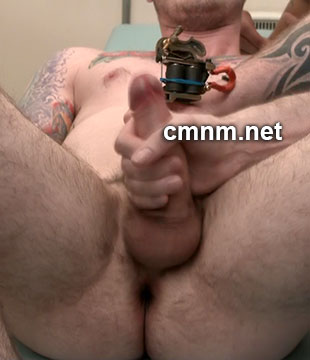 Time for the coach and chairman to take
charge in the football locker room!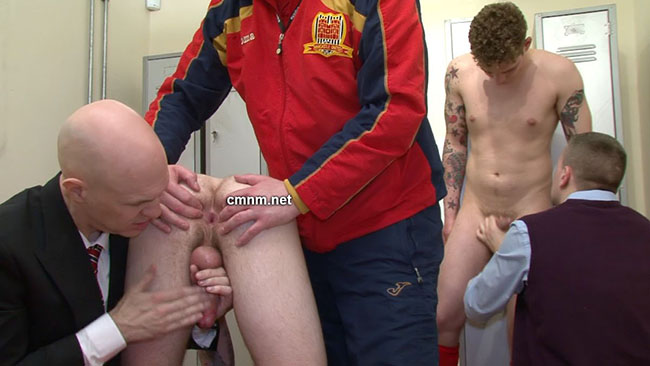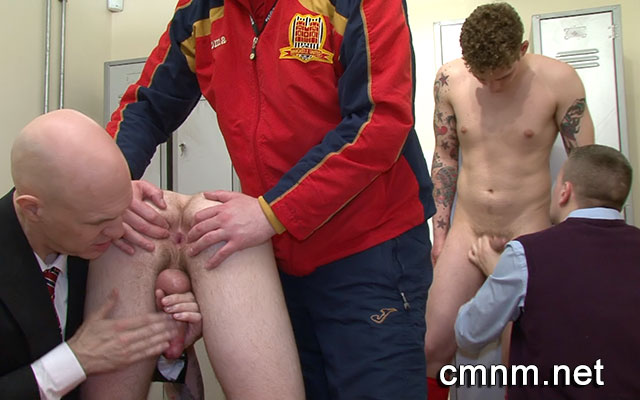 The coach and chairman have put a stop to teammates Freddie and Max's naked locker room antics so they can conduct their own pervy inspections. As new player Max gets his anus probed he feels a strange tingling and his todger gets very stiff. On his hands and knees with nothing on but his footy socks and cleats, the young athlete gets very hot and sweaty while the captain is being wanked in the corner.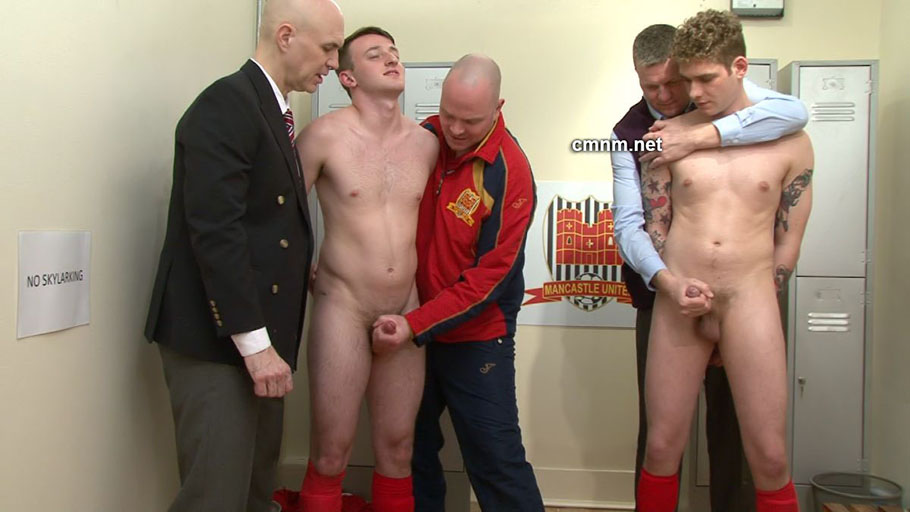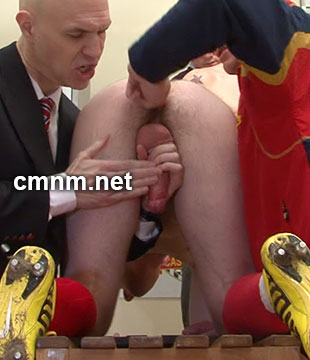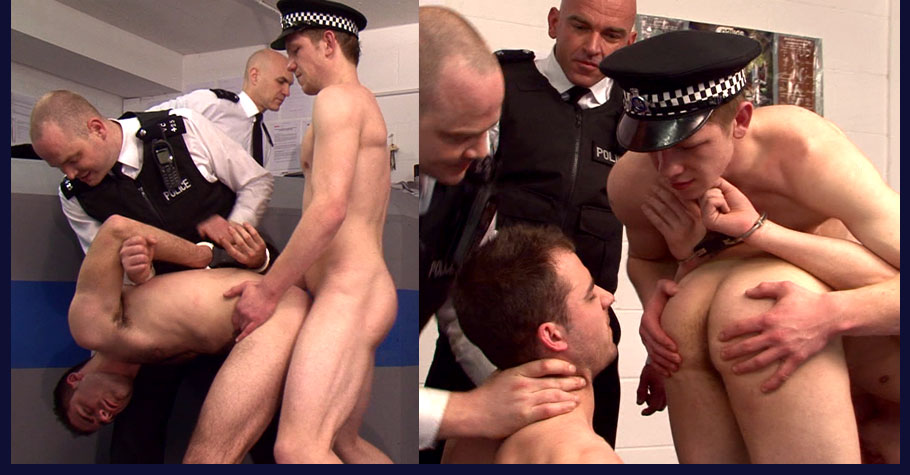 There's nothing better than stripping straight lads completely nude, putting their bodies on display, and teaching them exactly how to submit!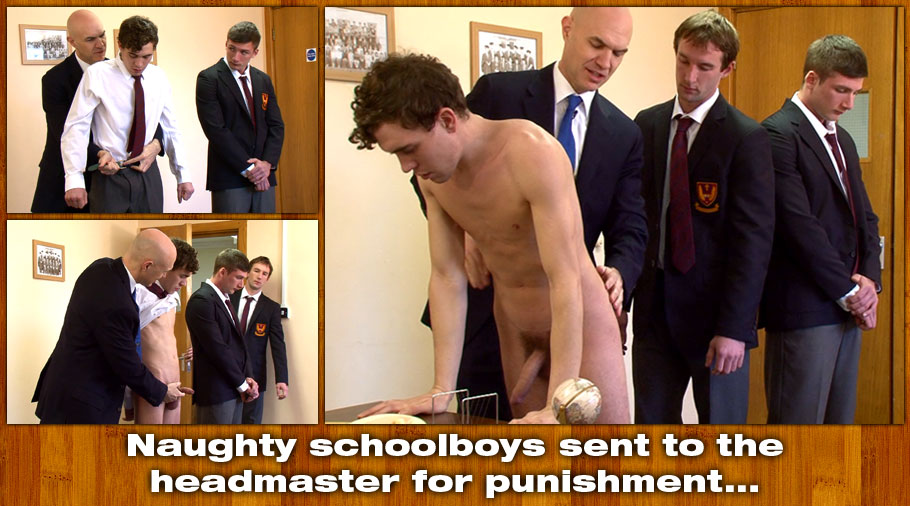 JOIN NOW
The handsome young men that operate Shifty Fit milk their wealthy older customers for all they're worth. The greedy lads are skilled at exploiting unsuspecting clients, but they've never encountered a man as strong-willed and angry as Monsieur Francois. This hot-headed Frenchman rages at the greasy mechanics who haven't fixed his BMW and splashed oil on his expensive shirt. The dirty mechanics retaliate by blackmailing him and threaten to tell his wife about the pervy material they found in his car. Tempers run high in this power struggle between the crafty young mechanics and the experienced domineering and furious M. Francois.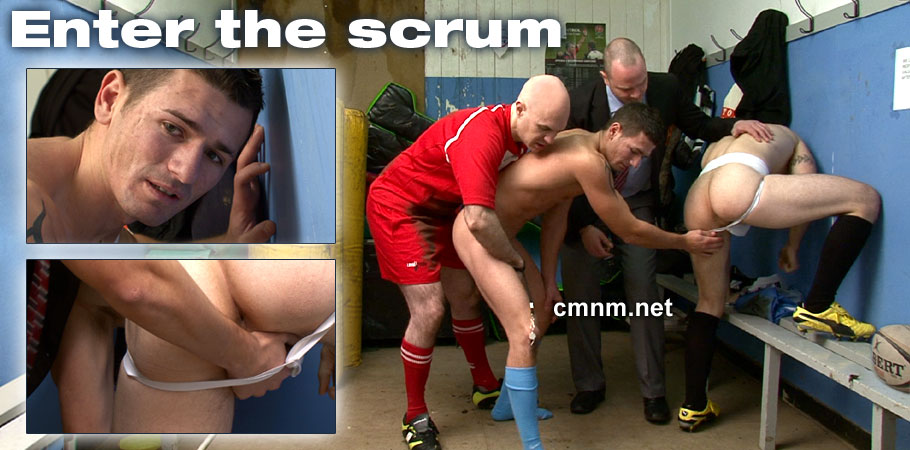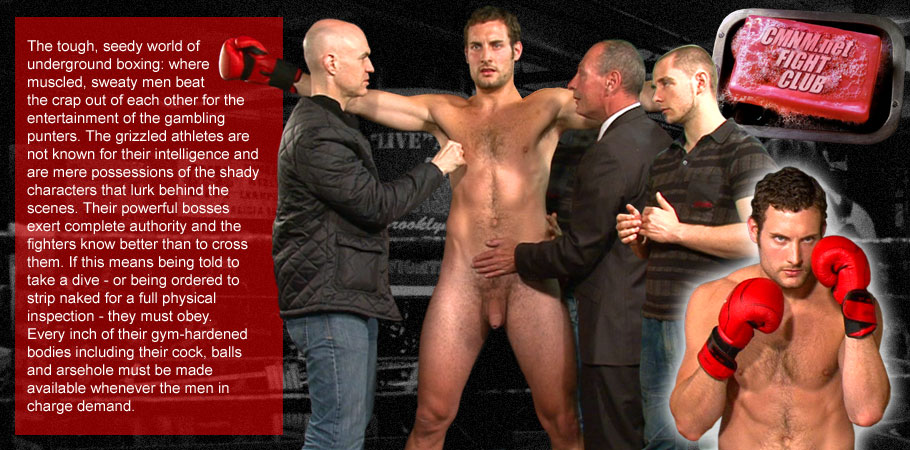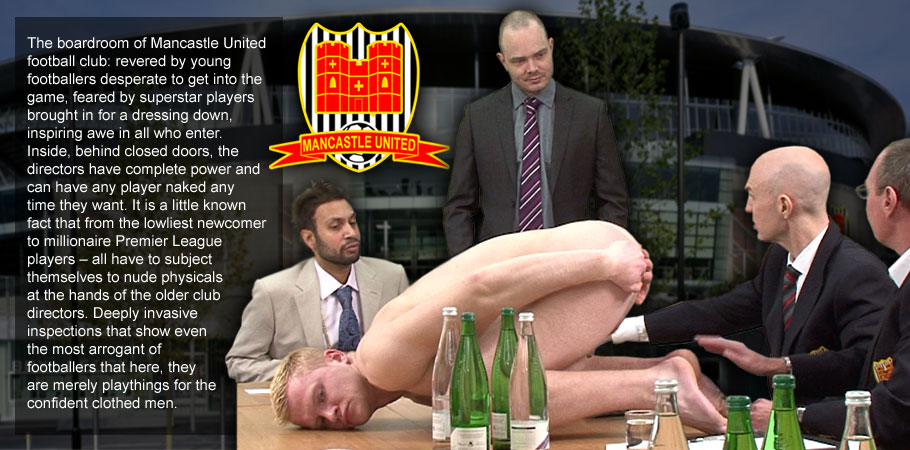 JOIN NOW
18 U.S.C. 2257 Record-Keeping Requirements Compliance Statement
We are concerned about the possibility of minors gaining access to this site.
To learn how you can lock out this and other adult sites, please follow any of the following links:
Net Nanny | Cyber Patrol | CYBERsitter | SafeSurf
Webmasters' Affiliate Program

CMNM.NET is edited by